Here is the original interview I had with Jim about Foggy Noggin Brewery
Summary
I had the pleasure of getting to know the brewer Jim Jamison of Foggy Noggin Brewing a whole lot better than I had in the past today. I have known Jim and his wife Kim since 1992 when Jim was one of the coaches of my daughter's soccer team "The Sidekicks." This was the first year of a team that would stay together from first grade through junior high. It was a great team. Jim's daughter, Stephanie was also on the team. I knew then that Jim was producing a newsletter on beer, but I thought it was only a hobby.

Today, I got to learn about how Jim's passion for good beer grew from tasting, to writing about it, and now to making it. He is a beer historian. This love affair started in 1979 at Produce Row Cafe in Portland where he then lived. . Produce Row was the place for beer. Every beer available for import into Oregon was here. Jim tried each and every one of them and became obsessed. The microbrewery or "craft" beer revolution started in the early 1980"s, and Jim enjoyed expanding his beer-horizons. Jim remembers that there were over 1,200 beers from all over the world on the menu, and it took about 4 years to get through them all. He said he wished he still had a copy of the menu. He'd used it to check off each beer as he tried them. Throughout this time Jim began to learn more about beers from different areas in the world and how they were made. He developed a special affinity for English Ale because of the great flavor, better balance, and less-filling nature.
Describe your business
We are brewers of great English Styled Ales on a very small 1/2 BBL system. We are one of the world's smallest production breweries, referred to as a nano brewery. Most brews are done in 1/2 barrel batches. We take great pride in every batch to bring you consistent high quality brews year-round. Our fresh beers are available at our tasting room, located at our brewery in Bothell, WA, and at several restaurants and pubs that rotate our beers through their lineup. At our tasting room, we have a rotating menu of 12 beers at a time. However, we have brewed over 86 different beers since we opened. Some celebrate special occasions like the birth of our grandchildren. We put out a special brew on each grandchild's first birthday. So far we have 3.
What made you decide to open this business?
I started with the publication "Northwest Brew News" (NWBN) in 1994. That happened as a result of a visit to the local grocery store. I was in the beer isle and a guy next to me commented that he had no idea which beer to choose , that it was too confusing. I thought, "There needs to be a publication to educate people on local brews." I started small with about 4 pages, eventually we grew to eight. We included reviews of breweries, pubs, stores, and books on beer. Again, the goal was to educate; we wrote no negative reviews. I ran copies off at Kinko's, and left a couple of hundred at the two businesses I had reviewed in the first addition (see photo of first addition), and I mailed them to my friends. There was information on the back about how to sign up for the newsletter. We allowed limited advertising, but only from local businesses. It began to grow , and by 1997, we had 15,000 subscribers. In 1992, Kim gave me a beer making kit. That was the beginning, albeit a long way away from Foggy Noggin. I still have that kit, and display it on top of the cold box. (see photo)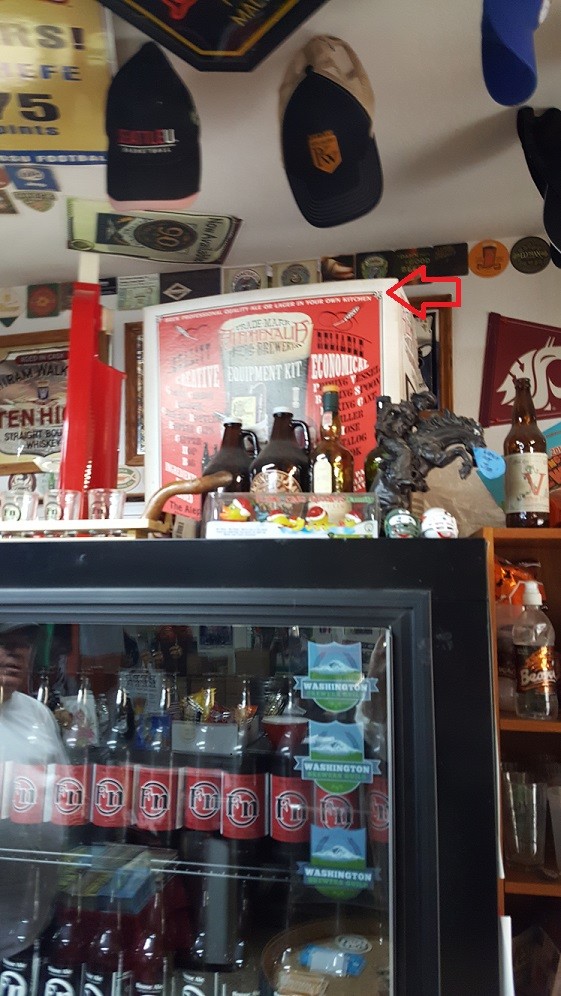 What was it like when you first started?
Well, when I first started brewing, I wasn't very good at it, and I made a lot of bad beer. I decided that if I was going to do this, I had to learn how to make one beer well. So, I practiced, and I studied until I brewed that one beer well. It is still on our menu. "Bit O'Beaver" was my first perfect beer. It's an English Bitter. I started by giving beer away to family and friends. Many of them asked where they could buy it.
I decided to expand, and was able to purchase a small 1/2 BBL system from a small planned brewery in Marysville that never actually took off. The brewery equipment consists of Grain Mill, Wort Chiller, Hot Liquor Tank, Mash Tun, Brew Kettle, and Fermenter. When I became a bit more serious, I constructed a 200-sq ft. building to house the equipment. It contains all the equipment, supplies, and a big stainless steel sink that I got from Albertsons when they closed. It's perfect for washing out barrels, small enough to wrap your arms around it. We keep the temperature at 68 degrees F year round. That is the perfect fermentation temperature and we keep classical music playing at all times to allow the beers a pleasant relaxing environment in which to ferment.

As the kids got older they became interested in brewing. I decided to wait until the kids were 21 to actually start the business and formed an LLC in 2008. Foggy Noggin Brewing LLC was issued a Washington State business license and the process began. Each of the kids got an ownership interest in Foggy Noggin. Now we were officially in business,
Can You Give Us An Idea How Things Are Done While Brewing?
So, Once Up And Going, Where Did You Go From There?
Well, as people wanted buy beer, we turned our garage into a brew pub, and are still open every Saturday from 12:00-5:00 p.m. The kids began brewing. Stephanie brews on Friday, Mathew brews on Saturday, and I get Sunday. As we said before, we have brewed over 86 different beers. We have made celebratory beers for the birth of each of our grandchildren on their first birthdays. We made a beer to celebrate the Seahawks going to the Superbowl in 2014 that we still brew. It's very popular.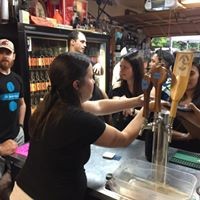 This Is A Great Story. Can You Tell Us About It?
We decided to make a beer to celebrate the Seahawks going to the Superbowl. We called it " 12th Man." We had only made a 1/2 batch of it, but we let everyone know about it on our social media sites. About a week before Superbowl we received a "cease and desist" letter from Texas A& M lawyers telling us that they had the trademark on that (12th Man) name, and they would sue us if we didn't stop using it immediately. Of course, we agreed. We renamed the beer "Cease and Desist Skittles IPA." Yes, there really are Skittles in the beer! CBS Evening News got a hold of the story, and they came out to interview us. As a result on the Saturday before Superbowl before we opened we had 250 people lined up in our driveway waiting to buy the beer! I went outside and explained to everyone that we only had enough of the "Cease and Desist Skittles IPA" for about 50 people, but that we did have some other really good beers. I told them that if the Seahawks won I would brew a full batch that would be ready in 3 weeks. Everyone stayed. We sold out of the "Cease and Desist Skittles IPA" in 10 minutes. The Seahawks won. In 3 weeks, we had another line out front and sold out of the Skittles brew again in 20 minutes! Every year on Saturday before the football season opener there is a line waiting for the Skittles brew!
There Is One Other Special Day During The Year That You Are Open. When Is That?
We are open from 2:00-3:00 p.m. on Thanksgiving. When I was a kid, after my mother got the Turkey in the oven, we would go bowling. We still do that as a family today. We normally get home at about 1:00. The first year the pub was open I suggested that we open up for just 1 hour after we got home. We put the signs out and about 12 people showed up. We did it the following year;those folks came back, and brought their friends. It has continued to grow. People kind of enjoy it as part of the holiday celebration now. They stand around and chat, and bring their growlers to be filled. It's now a tradition.
What would your customers say they love most about your business?
Well, first of all the beer,of course. But, they also love our pub. People come every Saturday (Open 12:00-5:00). All of our neighbors have become friends, and they have all met each other here. They bring their friends.
Is There Something That People Might Not Know About Your Business?
We hold events at our pub. You can rent the facility for $200 and the cost of the beer consumed. We have had wedding rehearsal dinners, office parties, book signings, birthday parties, all kind of events here. You can bring your own food, or we can help facilitate with catering. Most are held in the summer because of the weather, but we can accomodate 20 inside the pub.
Do you have any exciting plans for the future that you want customers to know about?
We are always looking for a new second location in Bothell. I would really like to bring in beers from all over the world, in addition to our own brews. There are so many different styles.
What do you love most about the neighborhood?
Bothell still has the "small town" feel to it. There is still a real sense of community here.
Where are your favorite places to go in the neighborhood?
There are so many great places. We love Julio's Mexican Restaurant. We have gone to Countryside Donuts ever since the kids were little. Yummy donuts! Hanna Sushi has some of the best sushi around, and Carolina Smoke Barbecue is the best! The Bine is a great new Beer and Food spot on Main St.
Why do you think it's important for people to shop local?
It's simple. You are reinvesting in your community.
The buying and selling of real estate is likely the biggest financial transaction you will ever make. And, real estate is more than a place to live. It's an investment . You need timely information to make informed decisions. The Rightsizing Blog is packed with insights and give you an edge into all things real estate . The Edge Group Real Estate team is here to help!

Let's Meet
Contact Us
206-276-3289
19221 36th Ave W. #106
Lynnwood, WA 98036

answers@edgegrouprealestateservices.com
Buyers
Our Listings
Homeowners
All Articles
schedule your free consultation
206-276-3289
206-295-0657
Judy Gratton
Jim Gratton
Dennis Day