The Top 10 Cities for Trick-or-Treaters
By Suzanne De Vita
Zillow has unveiled its annual ranking of the Best Cities for Trick-or-Treating, and—unlike swarms of trick-or-treaters dashing door to door—the top 5 haunts on this year's list have hardly moved since last year. The most spooktacular shift? Philadelphia, last year's No. 13, scaring San Francisco down from No. 1 to No. 3. Who said 13 was unlucky?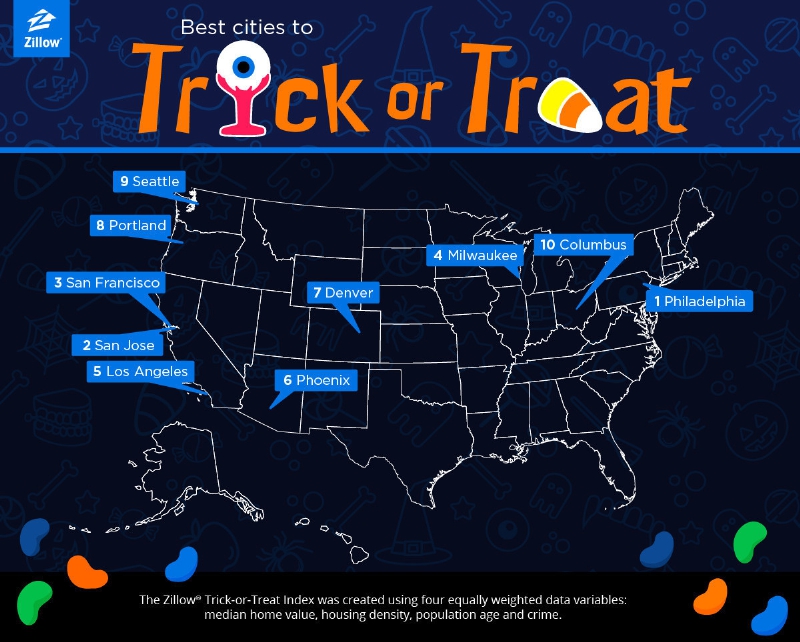 The ranking, based on factors such as concentration of homes and under-age 10 population, also dug up the best trick-or-treating neighborhoods in each of the top cities—an important distinction for discerning sweets scavengers. In Philly, those neighborhoods are (in order): Cobbs Creek; Frankford; Logan; Germantown East; and Fairmount.


Credit: Zillow


Credit: Zillow
"The national ranking is a fun way for trick-or-treaters and their parents across the country to assess how their city compares to others this Halloween season," says Dr. Svenja Gudell, chief economist at Zillow, "but what's really important are the local hot spots, which is why we've also identified the five best neighborhoods for trick-or-treating in each of the top cities."
Will droves of trick-or-treaters descend on your city this Halloween?
The complete ranking of the top 20 cities is available here.
Here is a link for Trick or Treating in Bothell  
The buying and selling of real estate is likely the biggest financial transaction you will ever make. And, real estate is more than a place to live. It's an investment . You need timely information to make informed decisions. The Rightsizing Blog is packed with insights and give you an edge into all things real estate . The Edge Group Real Estate team is here to help!

Let's Meet
Contact Us
206-276-3289
19221 36th Ave W. #106
Lynnwood, WA 98036

answers@edgegrouprealestateservices.com
Buyers
Our Listings
Homeowners
All Articles
schedule your free consultation
206-276-3289
206-295-0657
Judy Gratton
Jim Gratton
Dennis Day